VOLUME 35 - NUMBER 2 - June 2005


The Natural Senior contributing writer Wendy Mitman Clarke and her family head to the Wye River for an idyllic late-season cruise. So what if it was rainy and cold? That's not going to stop two curious kids—or their parents—from exploring one of the Bay's most scenic spots.


Kissing Pigs and Other Mistakes
Questionable smooching practices aside,
writer Ellis W. Merschoff has made like
a porpoise and swum across the
Chesapeake Bay—more than once!
That's the "mistake" part, in his opinion.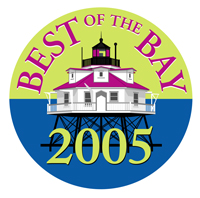 Best of the Bay
Step right up and read all about it. Once again CBM readers let us know what their favorite haunts and habits are here in Chesapeake country.

Pick 'Em Like the Pros Assistant managing editor Ann Levelle wanted to improve her crab picking skills (and yours), so she went to the ladies of the Smith Island Crabmeat Co-op to hone her skills. She passes along a trick or two that she learned from master picker Robin Bradshaw..




From the Editor
Feeling Crabby—Putting together the crab picking story required a dose of discipline and grueling hours of research.

Off the Charts
Blanche Shows the Way—Like a mother duck, senior contributing writer Wendy Mitman Clarke lures her little ones onto the water with love, faith and a few loud quacks.

Good Boatkeeping The End of the Line—Writer Gene Bjerke shows us the proper way to whip a line. No frayed ends here.

Time Tested Star of the Sea—Tom Dove takes us sailing aboard a Southern Cross 39, an ideal liveaboard cruiser if ever there was one.

Marina Hopping Marina in the Middle—
Paul Clancy ducked into Wormley Creek Marina on the York River and found a surprisingly quiet haven, despite its industrial-strength neighbors.

Cruise of the Month A Turn for the Best—Writers Gene and Katie Hamilton headed for Turners Creek on the Sassafras River, where a historic granary and public park caught their eye.

Me & My Boat The Second Happiest Day—Creaker was the perfect boat for Thomas L. Berry and his wife Randy. But as time passed, they began using her less and less. Finally it was time to pass her along to someone else.

Angler's Almanac The Great Imposters—The new plastic lures are attention getters, to be sure, and John Page Williams says that fish are catching on.

Stern Lines What Abides— Katherine Brown and her family go for an annual fall cruise to re-experience the Bay.
On the cover: Kaeo and Kailani Clarke explore the Wye River. Photograph by Michael C. Wootton