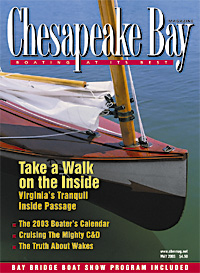 Take a Cruise on the Wild Side
Virginia's Inside Passage on the lower Eastern Shore is a haunting place of lonely beaches, wild marshes, shifting barrier islands and tiny towns. On his sloop Stardust, Paul Clancy meanders the sinuous, isolated waterways and finds a world of wonder less traveled.
Wake-up Call
We all know what it's like to get clobbered by a monstrous wake. But beyond spilling drinks or dinner, big wakes have injured and even killed people on the Bay, according to writer Mike Brown. These days, minding your wake is as much a matter of safety as it is good boating etiquette.
2003 Summer Guide
The Chesapeake's towns and traditions serve up a delectable menu of summer fun. Our top-to-bottom list will help you fill your Palm Pilot for the boating season.
Bay Faces: A Working Purpose
Jimmy Pierce has carved tens of thousands of decoys in the last 60 years, says executive editor Wendy Mitman Clarke, and every one of them reflects his lifelong love of the Susquehanna River and the waterfowling traditions of his home in Havre de Grace, Md.
Good Boatkeeping
Soak Up Some Sun
—Long a fan of solar power, Frank Lanier explains how simple and sensible it is to add some sunshine to your boat's power portfolio.
Time Tested
The Quintessential Trawler
—Stout and salty, the Kadey-Krogen 42 is a long-range cruiser that has rightly earned an ardent following. By Susan Canfield
Tech Support
Pay Radio
—Two companies are pioneering the field of digital satellite radio. Frank Lanier explains what each has to offer, and why you might want to give the idea a try for commercial-free onboard listening.
Marina Hopping
Simplicity and Class
—Nestled in the piney woods of southern Maryland, Point Lookout Marina off the lower Potomac River is a laid-back, welcoming haven that cruiser Diana Prentice loves to revisit.
A-Dock Confidential
Kicking the Habit
—Jerry Renninger fesses up: He's a gear junkie of the first order. Is there help for him?
Cruise of the Month
The Taming of the Slue
—Diana Prentice has traveled through the C&D Canal many times, but she never saw it as the engineering marvel it is until she visited the canal museum in South Chesapeake City.
Angler's Almanac
Shallow Thinking
—The Bay's shallow waters are warming, and they're a great place to fish for favorites on light tackle. By John Page Williams
Stern Lines
Saved by the Boat
—Mark Connelly's boarding school life was hell—until a teacher told him to build a pram.
On the cover:
a double-ended racing skiff from Clayton, N.Y., on display at last year's Classic Wooden Boat Show in St. Michaels.
Photograph by Michael C. Wootton
.