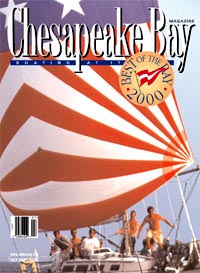 Crabaholics Anonymous

His name is Whitey Schmidt, and he has a problem. This heart-rending testimonial details Chesapeake crab-
houses doing what they do best: luring unsuspecting crab lovers to their doom. Could this happen to you?
River Dance

When CBM readers named their favorite cruising rivers and gunkholes, it sent
Wendy Mitman Clarke
on a spin back through time.
Johnny on the (Best) Spots

John Page Williams
points out the eight best fishing spots on the Bay. But don't worry, there's room for everyone.
At Your Service

Just what is it that makes a top-notch boatyard?
Tom Dove
set off to find out, and here's what he learned.
Four Favorites

CBM readers consistently name Baltimore
(Harbor Plus)
, Solomons
(Small Wonder)
, St. Michaels
(Moons of St. Michaels)
and Annapolis
(Perennial Favorite)
among their top ten cruising destinations on the Bay. Features editor Jay Livingston, senior editor Wendy Mitman Clarke, managing editor Jane Meneely and freelance writer Constance Bond take a crack at explaining just what it is about these harbors that is so all-fired alluring.
Best of the Bay

Every year we ask our readers to name their favorites. Here are their responses, loud and clear.

Marina Hopping
Readers Picks—Jane Meneely looks at three of this year's Best of the Bay marina winners: Herrington Harbour, The Tides Marinas and York River Yacht Haven.

Telltales
Turf Wars—The dandelion battle just doesn't have the same appeal as a tacking duel off Thomas Point Light for inveterate sailor Wendy Mitman Clarke.

Cruise of the Month
Still Pond, Still Paradise—Another of our readers' favorites, Still Pond beckons winsomely from the head of the Bay. By Nancy Taylor Robson

Time-Tested: A Guide to Good Old Boats
Well Found Fisherman—Jack Hornor comes across a Wellcraft 2800 Coastal and likes it . . . with reservations. Northern Light—Tom Dove rediscovers the C&C 40..

Reader Rendezvous
Barebones Bareboating—The unexpected pleasures of chartering come to the fore. By Pam Kane

Stern Lines
Making Waves—David Bishop shares some timely tips on how to use a marine radio to best advantage.

Reed Creek Journal