Family owned and operated, Georgetown Yacht Basin offers over 50 years of service to the boating community. Situated on the beautiful Sassafras River they are large enough to handle your every need but small enough to provide personal attention. High hill vistas and natural deep fresh water harbor. Offering open and covered slips, Georgetown has it all—Granary Restaurant and Sassafras Grill, neighboring Kitty Knight House, fueling, extensive marine store and full service facilities. Experience the best—come visit with us!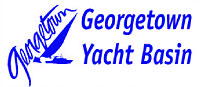 On Sassafras River, 8 miles from the river's mouth

Georgetown Yacht Basin
Route 213 South
Georgetown, MD 21930
410-648-5112
Fax: 410-648-5321
E-Mail: www.georgetownyachtbasin.com


Description of Facilities

Georgetown Yacht Basin is an extensive and very-well-maintained yachting facility overlooking the beautiful Sassafras River. This fresh-water marina has over 200 covered and open slips and can accommodate vessels to 125 feet. Moorings for 70 vessels are also available. Perched on the hill high above the marina is a well-landscaped, posh swimming pool and picnic area with gas grills for marina guests. The air-conditioned showers are all tile with Corian vanity tops. Pets are welcome and a special pet walk is available for four-legged canine guests. The marina features a full-line store with a wide variety of yachting necessities. The boatyard is a full-service or do-it-yourself facility which caters to a boater's every need.

At a Glance
Dockage $1.50/ft., 10' MLW
Utilities 30/50/100 amp, pumpout, laundry, modern showers, phones, cable under cover
Fuel Yes
Restaurants Yes
Services Full-service boatyard, haul-out up to 110 tons, storage
Supplies Ship's Store, shopping in town
Payment VISA/MC/Discover
Hours 8 a.m.- 8 p.m.
Special Van Rental
Pool Yes
Golf/Tennis No
Yacht Brokerage Yes
Airport Philadelphia 1.5 hours away
Transportation Yes


Marina Approach & Docking
Georgetown Yacht Basin is located along the Sassafras River about eight miles from the river's mouth. Proceed up the river observing the channel markers past N 14 and then you will see a bascule bridge. The basin is located on your starboard side before the bridge. There is plenty of water for most vessels in the Sassafras River. The docks are stationary structures with fingerpiers. There is a one-and-a-half-foot tide in the basin.

The marina staff monitors VHF 71 and 16, so call ahead for reservations and slip assignments. The dockmaster's hours are from 8 a.m. to 8 p.m. in season (longer on weekends). The store is open seven days a week.