VOLUME 34 - NUMBER 5 - September 2004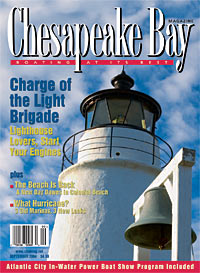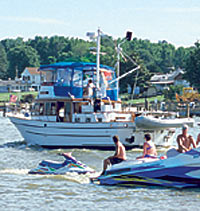 The Beach Bounces Back
Colonial Beach, Va., had just about recovered from a devastating marina fire when Hurricane Isabel roared through on her way up the Bay, leaving the town awash in debris and crumbled dreams. Now the old Potomac shore retreat is back in business, with a rebuilt waterfront and a revitalized business community. By Jody Argo Schroath
Charge of the Light Brigade
Writer Marty LeGrand rose to the first-
ever Maryland Lighthouse Challenge and
visited 10 lighthouses in one weekend.
She says the event was so successful that
it's being scheduled again for later this month.
Look for hot-and-cold running history and hands-on fun.
Lessons from Isabel Part II
Marinas and boatyards all over the Bay took it on the chin from Isabel. In "Back to Business," the second in our Isabel series, Marty LeGrand monitors the efforts of three different marine enterprises as they grapple with the hard work of starting over.
Good Boatkeeping The Right Stuff—Stuffing boxes are built to leak, says Frank Lanier. But a little preemptive maintenance goes a long way toward managing the drips.
Time Tested Split Personality—The Beneteau 40.7 is the perfect answer for sailors who are ready for comfort and speed. By Tom Dove
Marina Hopping Hangin' Out in Rock Hall—Gene and Katie Hamilton cruised into Rock Hall Landing Marina and found themselves within easy reach of the many shoreside attractions that Rock Hall, Md., has to offer visiting boaters.
Cruise of the Month Made in the Shade—They had to anchor out and row in, but writer Mike Brown and his wife Margaret thought the West River Heritage Day Oyster Festival at the Captain Salem Avery House was well worth the effort. Live music plus oysters fried, frittered and on the half shell . . . what's not to like?
Angler's Almanac Can't Top 'em—Using top-water lures is like operating a puppet on a string, and according to John Page Williams, fish love the performance.
Stern Lines Running Blind—When Katherine Brown finds herself wreathed in fog, she's mesmerized by its haunting beauty—but she's supposed to be watching for the next mark!

On the cover: The Piney Point Lighthouse — Photograph by Scott Sullivan