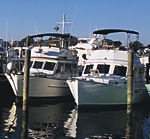 Trawlers, Ho!
Every fall, when the annual Trawler Fest beckons, trawler lovers congregate at a marina on Solomons Island to admire each other's boats, check out what's new in design and learn the ins and outs of liveaboard cruising. Last year managing editor Jane Meneely went too, aboard her trawler Escort.
Hamming It Up It
doesn't take a disaster to appreciate the talents of ham radio buffs. Technical editor Tom Dove tells us how. Bay boaters benefit from ham technology in fair weather and foul.
Circumnavigate This
Never one to miss
a good party, writer
David B. Bowes thumbed
a ride in last year's
Run What You Brung around-Kent-Island race.
They never did make it all the way
around the island, but it was one heck of a party.
Nautical Know

How Get the Hook—Frank Lanier reviews the salty but subtle art of dropping anchor
Time Tested
Big is Beautiful—Bayliner's 4550 and 4588 motoryachts are as roomy as they are affordable. They're easy on the eye too, according to Jack Hornor.
Marina Hopping

Mellow on the Magothy—Ferry Point Marina has stood the test of time, says Trish Lehman. Cruisers still find a warm welcome at this sheltered oasis
A-Dock Confidential

Random Harvest—A series of coincidences leads Jerry Renninger to a set of new cruising buddies. Or maybe they weren't coincidences. . . .
Cruise of the Month

Rollin' on the River—Paul Clancy wakes up to the cadence of a high-school crew team practicing on the East River off Mobjack Bay.
Reader Rendezvous

Only Local Squalls—Chan Rippon cautioned them about leaving Hooper Island with weather coming on. But Sally Alexander and her husband were in a hurry
Trading Places

The Fussin' Captain—Executive editor
Wendy Mitman Clarke heads to
Locklies Creek for a day of fishing with
headboat captain Buddy Muse.
Angler's Almanac

On the Salty Side—John Page Williams takes us on a tour of the "tongue of the ocean," the salty spit of water that curls around the Bay's lower Eastern Shore.
Stern Lines
Sitting Still—Being at rest requires a completely different mind-set if you've been programmed to go fast. But, says Diana Prentice, with a little practice, boaters generally get the hang of it.
On the cover:
Bird's-eye view.
Photograph by John Bildahl.