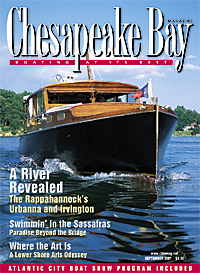 Rappahannock Ramble

A visit to the Virginia
river towns of Urbanna
and Irvington gives
Paul Clancy a notion of
what life on the Rappahannock
is all about. The food is good,
the living is easy and the
folks are quick to tell a tale.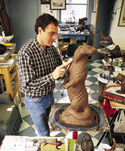 Artists in Paradise

The lower part of the Delmarva
Peninsula is a veritable warren
of talented craftspeople and
artists who have cobbled together
a community bound by friendship,
hard work and necessity.
Constance Bond knew she'd be
able to meet one or two of them,
but one phone call led to another. . . .
Goin' Down

As he and his chums motored across the Bay in the wee hours of a summer morning, heading for the one-armed bandits in Chesapeake Beach, Archie S. Brooks was feeling lucky—until a 124-foot tanker plowed into the boat, sinking it in minutes. Still, luck prevailed; they all lived to tell about it.
Departments
WeatherEye
Mail Call
Channel 9
New Boat News
Gear & Gadgets
Cruisers Calendar
Galleys Ashore
Crab Lab
Boat Club News
Bay Business
Tide Tables

Correction: Weather Window in Channel 9 contains an incorrect URL. The correct URL is http://co-ops.nos.noaa.gov/CBOFS/index.shtml
Advertising Sections
Boat Review
Grady-White Marlin 300
Osprey 30
Advertisers' Index
Classifieds
Insert: Atlantic City In-Water Power Boat Show Official Directory
Nautical Know-How
Pump It Up—When they first hit the deck, inflatable life jackets were full of hot air. Now, after correcting certain design flaws, inflatables have finally won Coast Guard approval.
Stephen Knox
talks about their pros and cons.
Time Tested: A Guide to Good Old Boats
Ray of Sunshine—
Jack Hornor
gives the Sea Ray 290 Sundancer the thumbs up. They might cost a little more than other weekenders, but they give it all back in pleasure and, ultimately, resale value.
Marina Hopping
A Patriotic Fourth
—He wanted a front row seat to watch the spectacular fireworks that traditionally blaze over Hampton Roads on the Fourth of July. So
Paul Clancy
headed for the Tidewater Yacht Agency's marina in Portsmouth, Va. With his boat snug at the dock, he caught every spark—figuratively speaking.
A-Dock Confidential
Animal Magnetism
—
George Trennig
tells us that the yachting life is incomplete without a pet aboard—especially big, furry pets of questionable parentage. Some of us remain unconvinced.
Cruise of the Month
A Dunk in the Upper Sassafras
—If you're willing to idle through the Sassafras River bridge, says
Tom Dove
, you'll find good holding and a swimming hole that would do Bernie Fowler proud
.
Trading Places
Tough Row to Hoe
—When Liz and Vic Arvidson set their sights on owning a small business, they had no idea they'd go through hell and high water turning Glass Boat Works, in Exmore, Va., into one of the premier boatbuilding operations on the Bay.
By Nancy Taylor Robson
Angler's Almanac
Bridge Work
—
John Page Williams
gets us in and around Bay bridges and tunnels, and tells us how to take advantage of these manmade fish magnets.
Stern Lines
To Own and Be Owned—All boats require care and feeding. It's just that, as
Constance Bond
points out, some are hungrier than others.
On the cover:
Deja Vu,
a stately old Elco, motors down the Rappahannock Photograph by Starke Jett.