End of the Rainbow
Gorgeous scenery, friendly people, wonderful maritime history . . . What's not to like about the Yeocomico River on Virginia's Northern Neck? Very little, says executive editor Wendy Mitman Clarke. Very little indeed.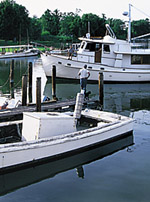 Bay Hundred Roundabout
Yes, it does seem like half the boats on the Bay head for St. Michaels on Friday night. But there are other places to go and things to see and do in that neck of the woods, managing editor Jane Meneely insists. Join her aboard Escort for a tour of the quietly compelling Bay Hundred peninsula.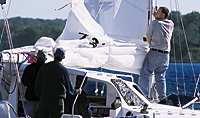 Multi-Tasking
Interested in test driving
a cat or trimaran? For serious shoppers,
the apres-boat-show sailing fest called
Multihull Demo Days, now in its fifth year,
is the place to be.
Hit the Road, Jack
Technical editor Tom Dove, a mobile fellow if there ever was one, tells you everything you need to know about the long-distance boat-hauling biz.
Boating in the 21st Century
We asked humorist Jan Adkins for a report on boats of the future. Maybe we should have asked someone else. Yeah, we definitely should have sent someone else.
Freedom Schooner
For a sailor and history buff, says writer Paul Clancy, it doesn't get much better than this: crewing aboard Amistad, a replica of the famous "freedom schooner"of 1839.
Good Boatkeeping
Getting Pumped—It's time you met your bilge pump, says Frank Lanier. It keeps you afloat, after all.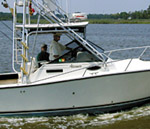 Time Tested/Power
Little Big Boat—You rarely see the Albemarle 27 Express Fisherman for sale, says John Page Williams, because their happy owners don't give them up.
Time Tested/Sail
World Traveler—There are only a few cruisers suited for both Bay cruising and crossing oceans. The
Hallberg-Rassy 42 is one of them. By Tom Dove
Marina Hopping
R&R on the C&D— Diana Prentice heads for the south side at Chesapeake City and finds a tradition in the making: the Chesapeake Inn Restaurant and Marina.
A-Dock
Confidential Bars and Stars—Why not combine the tranquility of stargazing with the fellowship of a neighborhood bar? asks Jerry Renninger. It could happen.
Cruise of the Month
Meant to Be— The creek in the painting looked awfully inviting. Who would have thought they'd actually end up living there? By Ken Delhagen
Me & My Boat
Put Me in, Coach—Football been berry, berry good to
Brian Billick, head coach of the Baltimore Ravens. Herewith, the skipper's log, describing the Billick family's first season aboard their spanking new Sea Ray, Invictus.
Angler's Almanac
Precious Metals—Jigs and spoons can be great additions to your tackle box, John Page Williams tells us, if you take time to learn how they flash and wobble.
Stern Lines
Tell Me Wye— M. L. Faunce goes chicken-necking on the Wye River, and rediscovers the allure of the Eastern Shore's famous big-crab factory.
On the cover:
Signal flags.
Photograph by Lisa Masson
.