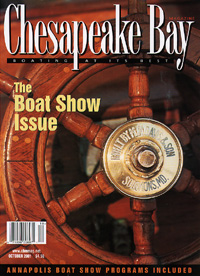 Island Time
A weekend at Cobb Island, on the edge of the Potomac River, gives cruising editor Constance Bond a chance to chat with the island's old guard and get a strong dose of local history.
Tough Love
The Severn River
near Annapolis has seen
hard use over the years,
and it shows. Now river
residents are trying to
restore their beloved waterway.
By Nancy Taylor Robson
The First Final Battle
Everyone knows the Brits said "Uncle" at Yorktown, but few know of the Chesapeake naval clash that put victory into George Washington's grasp. Editor T.F. Sayles describes the action during the last days of the American Revolution.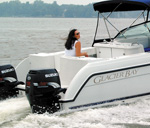 Nice Kitty
Power catamarans
are on the prowl, and Tom Dove
and John Page Williams pounced
on the opportunity to give us a
full report on how they're
making out in Bay waters.
Some Like it Hot
Whether you plan to tough out the winter tied to a Chesapeake dock, or you just want to extend your cruising season, onboard heating systems are a good investment, says Tom Dove.
Falling in Love Again (and Again)
Dick Rossé thought his little Kalea was a pretty fine boat and was happy to buy her back whenever he had the opportunity.
Nautical Know-How
Runaway Inflation—From RIBs to rubber duckies, inflatables have bobbed into the boating mainstream. By Tom Dove
Good Boatkeeping
Slippery Slope—Oil and fuel spills spell big trouble for the environment and the careless boater. Stephen A. Knox gives a heads up on how to prevent them and clean them up.
Time Tested/Power
Jersey Girl—The Viking 40 Convertible offers a mid-size option for fishing and cruising. By Jack Hornor
Time Tested/Sail
Split Personality—The trailerable MacGregor 26X works as a daysailer or a powerboat. By Tom Dove

Tech Support
And So it WAAS—Stephen Fishman tells us all about the Wide-Area Augmentation System on your GPS.
Marina Hopping
And a Crab Shall Lead Them—Diana Prentice follows the signs to Crisfield, Md.'s Somers Cove Marina, smack in the heart of crab country.
A-Dock Confidential
How to be My Guest—If you're coming aboard George Trennig's Tub, be prepared to toe the line.
Cruise of the Month
Trailering Down to Havre de Grace—Trailer man Richard Rose takes us along when he launches into
the Susquehanna.
Me & My Boat
Slowing Down—When Karl Hasslinger and his wife began looking for a new boat, a Grand Banks trawler stopped them in their tracks.
Reader Rendezvous
Boat Show, or Bust—Everyone has a special boat show memory. Reader Nancy Tuttle shares hers.
Angler's Almanac
The Third Dimension—John Page Williams looks into the latest fishfinder technology.
Stern Lines
Chessie Comes to Oak Creek—When everyone else saw Chessie, Jane Meneely and her family saw so much more, thankfully.
On the cover:
Ship's wheel
. Photograph by Tim Tadder.