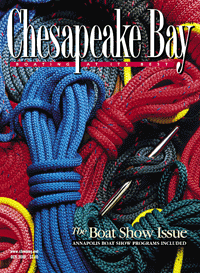 The Great Divine
Cruising the Choptank River last spring, managing editor
Jane Meneely
found a slice of paradise.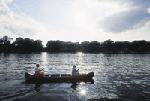 Bugging Out of the
Boat Shows
Whether it's a walk
through Historic Annapolis,
a jaunt to London Town
or an anchorage in
Whitehall Bay,
CBM
editors can get you
outta Dodge.
Beyond the Beaten Table

Jay Livingston
beats a track toward some of the more diverse eateries around Annapolis, including a few pubs.
The Day Pat Melted
Writer and illustrator
Jan Adkins
was having a hot time of it
out on the river last summer, when all of a sudden. . . .
Southward Bound
"Snowbirds" manage the good life
so many of us only dream about —
Jay Livingston
tells us how they do it.
An Outboard Odyssey
John Page Williams
needed an outboard.
CBM
told him to shop till he dropped to learn what's new on the market.
Bay Window: Strike up the Band
Writer
Gene Bjerke
invites us aboard the
Susan Constant
for a closer look at life on a tall ship.

Nautical Know-How

Staying on an Even Keel—Balance is often the key to safety and good performance. By
Tom Dove

Time-Tested: A Guide to Good Old Boats

A Happy Medium—The Luhrs 320 Convertible cuts both ways as a cruising and fishing boat. By
Jack Hornor
Queen B—The Bermuda 40 blueblood. By
Tom Dove

Marina Hopping

Waterway Wayside—Atlantic Yacht Basin in Chesapeake, Va., is a pretty interesting place. By
Jim Stalnaker
PropWash

Too Close to Nature—
Leon Frank
finds out what makes swans fly: his dinghy at 20 knots.

Cruise of the Month

Ribbb-it and Roar—Frog Mortar Creek off Middle River made for a different kind of sojourn. By
Tony Muldoon


Trading Places

An Education in the Classics—M&M Boat Sales and Service in Baltimore. By
Wendy Mitman Clarke

Angler's Almanac

Fall on the Middlegrounds—October blows the fish into the Bay, and
John Page Williams
pulls them out.

Stern Lines

Hiding in the Cockpit—For
George Trennig
, losing his job wasn't as bad as refinishing all that teak!
Reed Creek Journal