VOLUME 34 - NUMBER 7 - November 2004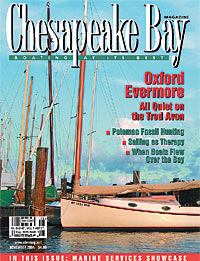 Brigadoon with Crabcakes
Oxford, Md. has always been a favorite stopover for cruising boaters, who appreciate the slower pace of this little hamlet on the Tred Avon River. Writer David B. Bowes spent four days there this summer and diligently tested every crabcake in town. James Michener never had it so good.


It's a Bird, it's a Plane . . . it's a Flying Boat!
When editor-at-large Connie Bond heard that a flying boat had sunk in the Baltimore harbor, she was intrigued. Flying boats? Sure enough, she tells us, flying boats were a big part of the Chesapeake landscape in the 1940s, when Glenn L. Martin designed and built them on Middle River.

On a Roll
Don Backe and the Chesapeake Region Accessible Boating program (commonly known as C.R.A.B.) offer the joys of sailing to scores of disabled people—along with the Downtown Sailing Center in Baltimore and Sail Hampton Roads. Editor-at-large Joel McCord gives us a closer look at this vibrant group of avid sailors and the others like it on the Bay.
Good Boatkeeping Rig Up
Take the time to examine the standing
rigging on your sailboat and you could discover worn turnbuckles, frayed wire or corroded chain plates.
Marine surveyor Susan Canfield walks us through a rudimentary rigging inspection.

Time Tested/Power Presidential Power
The President 41 packs a powerful punch where cruising comfort is concerned. Its modified trawler hull makes for an easy ride, and a variety of interior layouts make the boat cruiser-friendly. By Susan Canfield

Marina Hopping Little Creek, Big Changes
Diana Prentice stopped at Taylors Landing Marina on Little Creek outside of Norfolk. Peace and quiet was not to be had, what with all the coming and going of military planes and craft, but she found a community on the comeback and plenty of great places to eat.

Cruise of the Month Cruising the Miocene
Writer Jody Argo Schroath had no luck at all when she went fossil hunting along the beach at Westmoreland State Park on the Potomac River. Fellow beachcombers had a better go of it, and one shared his bounty, giving her a fossilized tooth to take home.

Reader Rendezvous The Stingray's Sting
Their first real test of their new boat would be a shakedown cruise up the Rappahannock River, but they had to get around Stingray Point first—in this case, easier said than done. By Linda G. Hinckle

Angler's Almanac Something New vs. Tried and True
Looking for rockfish? John Page Williams has some new ways to find them.

Stern Lines Hardhats and Hardheads
David Strickland just wanted to get through that bridge. Another boater just had to get through first, but that was okay. At least the construction workers on the span were paying attention.

On the cover: A catboat sits pretty at an Oxford dock — Photograph by Scott Sullivan