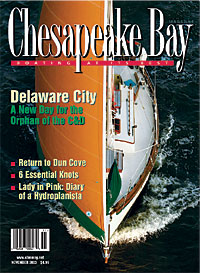 Diamond in the Rough
Designed and built to prosper where the original C&D Canal met the Delaware River, Delaware City fell on hard times after the canal was re-engineered and routed south. Editor-at-large Connie Bond takes her boat up what is now called the Branch Canal to visit the town, where she finds an active community rallying around its history, people and charm.
Power Trip
Rookie hydroplane
driver Tracy Morgan had to show
her chopsduring spring testing.
Flying Pink Panther around the
course was, she says, more fun
than should be legal.
Hitches & Bends (and Other Clever Uses of Twisted Fiber)
From the Gordian to the Celtic, knots hold a mystic power over us mere mortals. And for good reason, says Jan Adkins in this little treatise on the art of knot tying. A knot tied well can save a ship (or a shoe)—and ease the wear and tear on an expensive dock line.
Bay Window: On the Brink
The New Point Comfort Lighthouse still stands off Virginia's Mathews County—but time is running out for the Bay's third oldest beacon. Wendy Mitman Clarke tells of the long and continuing struggle to keep the picturesque tower standing.
Good Boatkeeping
Try and Catch the Wind
—Frank Lanier gives us the lowdown on onboard wind generators.
Time Tested
Maximum Fun
—The Maxum 2800 was designed to be and remains a popular "starter" boat for families, but, says Susan Canfield, it has its limitations.
Marina Hopping
String of Pearls
—The Urbanna waterfront has plenty of amenities for cruising boaters. Diana Prentice cruised in and checked them out: Upton's Point
Marina, Dozier's Port Urbanna Yachting Center,
Urbanna Yachting Center and Urbanna Bridge Marina.
A-Dock Confidential
Trivial Pursuits
—Considering himself something of an expert at wasting time, Jerry Renninger decides to give lessons. The Dragon Lady takes a dim view of such goings-on.
Cruise of the Month
Double Date
—When Richard Rose heads into Dun Cove, just north of Tilghman Island on Harris Creek, he recalls the night he and his wife shared the anchorage with a pair of nesting ospreys.
Reader Rendezvous
Merlin the Mariner
—Sam Schleman and his wife never imagined that their faithful dog Merlin would ever join them on their sailboat. When fate decreed otherwise, the plucky canine proved an able sea dog—able enough, anyway.
Angler's Almanac
Hooked on a Memory
—There's no lure like an old lure, says John Page Williams. Some of those oldfangled gizmos can still put dinner on the plate.
Stern Lines
Buying a Boat
—Relying on friends for one's boating pleasure has its limits, Katherine Brown discovered. Their day of sailing quashed by a boatowner's change of plans, she and her husband Paul find themselves pondering the reality of boat ownership.
On the cover:
A bird's-eye view fo a sailboat on the Severn River.
Photograph by Scott Sullivan