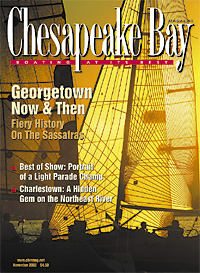 Port of Princes
Managing editor Jane Meneely takes us on a magical history tour of the twin towns of Maryland's Sassafras River: Georgetown and Fredericktown, torched by the British in the 19th century, but still very much alive in this one.
A Pearl of Great Price
The burly old Solomons oysterman was a man of few words, but his generosity made a deep impression on a young sailor. Bob Anderson recalls his Navy training days on the Bay during World War II—and Caleb, the easygoing waterman who gave him a memorable Thanksgiving.
Best In Show
It took 50 volunteers, hundreds of hours and thousands of tiny lights, but it paid off in the end. Jeff Holland chronicles the making of an Eastport Yacht Club Lights Parade champion: a Victorian fantasy from Singles on Sailboats.
Bright Lights, Big Claws
And speaking of near-electrocutions . . .
J.W. Corse recounts the short
happy life of "Sandy Claws,"
aboard which she and her
companions nearly froze,
and nearly fried.
Good Boatkeeping
The Sound of Silence—Engine noise isn't something you have to live with, says Stephen Fishman, who offers the basics of engine-compartment soundproofing.
Time Tested
Speed Demon—With Fountain's sturdy 38 Sport Cruiser, the emphasis is clearly on "sport," says Jack Hornor. But, pedigree notwithstanding, it's a reasonably comfortable short-hop cruiser.
Marina Hopping
Catchin' Z's—Executive editor Wendy Mitman Clarke, weary from a heavy-weather trip down the Potomac, finds refuge, hospitality and a heck of a good hot shower at Zahniser's in Solomons, Md.
A-Dock Confidential
Facts of Life—Living aboard ain't easy, as some landlubbers presume. But it's just what the proverbial doctor ordered for Jerry Renninger and his beloved Dragon Lady.
Cruise of the Month
Chasing Down Charlestown—As often as he'd been up and down the Northeast River, Richard Rose had never noticed Charlestown. Putting in at North East, he quickly remedied that problem.
Reader Rendezvous
Huff, Puff and a Dog Named Jethro—David Byler remembers the summer boating dreams came true, and were brought to earth by a poodle's bladder.
Angler's Almanac
Urban Renewal—Rivers like the Patapsco, James and Elizabeth, are cleaner than ever. John Page Williams gives us the scoop on big-city fishing.
Stern Lines
A Boy and his Scow—It was a lot of work rebuilding litte Gull from the ground up. But, Jay Livingston grudgingly admits, it was a character-building experience. And, best of all, it was quality time with Dad.
On the cover:
Late-season racers on the Severn.
Photograph by John Bildahl.