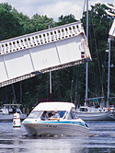 Pokin' Along
Scouting for future adventures, Tom Dove and his wife Pam run their little runabout up and down Maryland's Pocomoke River. Despite the occasional barge traffic, they find a river of exceptional and rugged beauty, and the quiet waterfront towns of Snow Hill and Pocomoke City.
In a Whaleboat with Strangers
The adventurous David B. Bowes comes to these pages again with a stirring account of his high seas adventure aboard one of Outward Bound's sturdy whaleboats, criss-crossing the Bay and testing his ability to survive in the face of thunder, lightning and strong body odor. For school kids it beats the heck out of sitting in English class. For Bowes, on the other hand. . . .
Cold Turkey
Cruising to the Chester River for Thanksgiving seems like a terrific alternative to holiday traffic and the incessant chatter of a family gathering. So, leaving the Alka Seltzer behind, Leon Frank takes off for the pleasures of turkey a la Corsica—and is surprised to learn that a well appointed powerboat like Knot Home can be so bloody cold..
Good Boatkeeping
Rattle and Hum—If your boat emits the occasional clatter or odd squeak, and it drives you (or your neighbor) whacky, try one of these do-it-yourself fixes from Tom Dove.
Time Tested/Power
Top Hat—The Hatteras 53 Motor Yacht was designed and built to be a classy dame, and she remains the belle of any ball. By Jack Hornor
Marina Hopping
Pocket Port—Cruising editor Constance Bond finds refuge at Flag Harbor, a cozy nook in the shoreline above Solomons Island.
A-Dock Confidential
Living Room—Like any liveaboard, George Trennig has to come to grips with limited living space. And so does the Dragon Lady.
Cruise of the Month
X Marks the Spot—When Jim Stalnaker takes his twin granddaughters to Gwynn Island, he creates a memory they'll treasure for a lifetime.
Reader Rendezvous
It's Called Auxiliary Power, Hon—Reader Duncan A. Buell had never been sailing on the Bay before, and he almost missed his chance. Fortunately, he knew a thing or two about motors.
Dire Straits
Anatomy of a Tragedy—There were only a few of them in an open boat, but when a storm threatened they made a series of mistakes that led ultimately to a night of terror and tragic loss. By Mike Brown
Trading Places
Taxi Driver—Ed Kane starting ferrying people around Baltimore's Inner Harbor shortly after the last ice age. Or maybe it just seems that way to him, and to those who use his water-taxi service, says writer Herbert Davies Jr.
Angler's Almanac
No Alibis—Forget your favorite excuse. John Page Williams tells you how the experts find fish, even when they're not feeling lucky.
Stern Lines
See Spot Run Away—When Kim Fernandez tried tossing sticks in the river for her frolicsome pet, Fido would have none of it, and Fernandez despaired. She needn't have worried.
On the cover:
Le Renard reaches to the Bay.
Photograph by Bob Grieser.