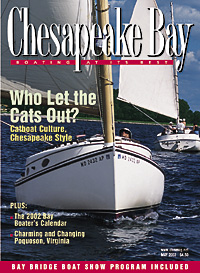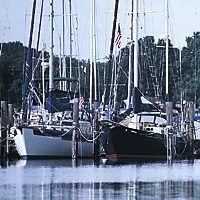 Out of This World
Writer Paul Clancy explores Poquoson, Va., from Bennett Creek to Messick Point. Despite the proximity of the Tidewater sprawl, small-town hearts beat in the quiet fishing wharves and marinas that line the Poquoson and Back rivers.
Catting Around
Catboats may have originated in the blustery waters off the New England coast, but the feisty craft have a devoted following here on the Bay. Writer Mike Brown follows the Chesapeake Catboat Association fleet on some of its prowls.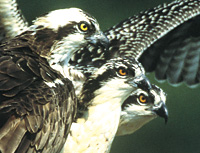 The Osprey's Tale
For a while it looked as if ospreys were heading for extinction on the Chesapeake and elsewhere. Editor-at-large Marty LeGrand tells of the bird's remarkable comeback and how the Chesapeake became the osprey adoption agency of the East Coast.
Summer Guide 2002
Start making your boating plans with this handy guide to what's happening around the Bay during the upcoming season, from North East to Norfolk and all points between.
Tech Support
Connected Cruising—Plugging your cell phone into your laptop for onboard e-mail is no big deal. Writers Gene and Katie Hamilton tell you how to do it.
Time Tested
Tried and True—The Albin 36 marks a comfortable halfway point between the luxury trawlers and the budget models. By Jack Hornor
Marina Hopping
Eye of the Storm—Katherine Brown cruised into Baltimore harbor when the world was on high alert and found a friendly refuge at the HarborView Marina.
A-Dock Confidential
Fire When Ready, Gridley—Writer Jerry Renninger and the other guy in that tight little anchorage couldn't believe the audacity of the fellow with the blaring stereo. Together, they came up with a plan.
Cruise of the Month
Still Tops—Cruising to Mount Vernon on the Potomac River is a great way to take in history along with the view. Writer Amy Smith made arrangements to tie up for a tour of Washington's home.
Reader Rendezvous
Slipping Away—Bob Rexroad bit the bullet, pulled up stakes and moved his boat to a new marina. It wasn't nearly as catastrophic as he imagined.
Trading Places
Sail Master— Annapolitan Larry Leonard Jr. wants to make boats fly. Now with a string of impressive victories behind him, Quantum's master sailmaker is edging toward the top of the sailmaking game. By Nancy Taylor Robson
Angler's Almanac
Trust Your Mate—If you want to learn something from the experts, keep an eye on their mates, says John Page Williams. Often they are the ones who have tricks to spare.
Stern Lines
What We Do—Liveaboard Diana Prentice didn't think her brother would appreciate her laid-back lifestyle. Sisters can sure get it wrong.
On the cover:
Catboats on the prowl.
Photograph by John Bildahl.