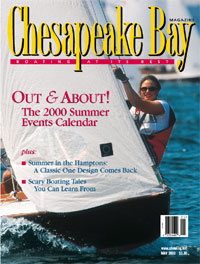 Tales of Woe

This cautionary triptych reveals three Bay boaters who lived to learn from their mistakes. By
Leon Frank, George W. Brown
and
Lynn Eddy
.
Park It

From Kiptopeke to Elk Neck, writer
Nancy Taylor Robson
takes us on a tour of the state park facilities that ring the Chesapeake Bay.
Class Act

Once again the Chesapeake's own Hampton One Design is taking on the competition, as newcomers swell the ranks of a comeback fleet. By
Douglas Hanks III
Bay Faces: Rebel with a Cause

Nancy Taylor Robson
finds Graham Ero eschewing all things fiberglass and turning out wooden wonders in his little boat shop in Still Pond, Md. .
Summer Guide

So much to do—and all season to do it! This compendium of goings-on will key you in to the places you won't want to miss, and maybe some you do.

Good Boatkeeping
Going Up—More and more boatowners are installing boat lifts on their piers. Tom Dove takes a look.

Time-Tested: A Guide to Good Old Boats
Trading Up—The Marine Trader 34 Double Cabin remains a perennial favorite. By Jack Hornor
Day Dreamer—George O'Day's nifty little daysailer still wins hearts and races. By Tom Dove

Marina Hopping
At Home at Olverson's—Jim Stalnaker revisits Olverson's Marina on the Yeocomico River.

Tell Tales
Ready or Not, Life Happens—Wendy Mitman Clarke finds herself making the moves with a real swinger.

Cruise of the Month
Up a Lazy River—A trip up the Nanticoke River brings the Moon Song to Vienna, Md. By Dick Goertemiller.

Reader Rendezvous
The Cruise of the Serpent—Lynn Dausman's encounter with a shanghaied snake leaves her with the shivers.

Angler's Almanac
Croakers on the Line—With more and more croakers in the Bay, it's time to reel 'em in. By John Page Williams

Stern Lines
Silencing Bligh—Barbara White discovers (and shares) the secret of happy boating.

Reed Creek Journal