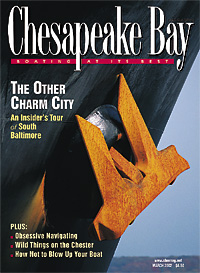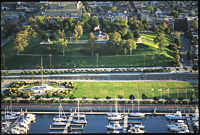 Take a Walk on the South Side
The homey little neighborhood that lies beyond Federal Hill south of the Inner Harbor Marina still offers up a touch of old Baltimore. From the Cross Street Market to Nevin's karaoke central,
writer
Jim Duffy
guides us through a community braced for—but maybe not so happy with—change.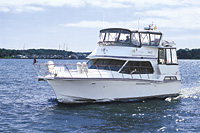 Precision Boating
Navigating a smooth course can mean more than just getting from here to there. At least that's what
editor-at-large
Constance Bond
learned when she tagged along on a predicted log contest out of St. Michaels. Captains had to plot their course and estimate their arrival times to converge on the same spot at the same time. Says Bond, "It took a lot of math."
The Case Against Wood
Leveling the finest of aluminum spars,
writer-illustrator-sailor Jan Adkins
pokes a hole or two in the mystique of wooden-boat building. His take on the concept is simple: Mother Nature clearly didn't have boats in mind when she designed trees.
The Water and Walter Coles
In her interview with Walter Coles Burroughs, one of the last pound netters operating in Virginia waters,
executive editor Wendy Mitman Clarke
reveals a man in mourning—for a vanishing way of life and for a wife who succumbed to Alzheimer's.
Good Boatkeeping
Watch it, Sparky—There's a reason behind
ignition-protection systems on gas-powered boats. Without them, says
Stephen Knox
, you're liable to get a literal bang out of boating.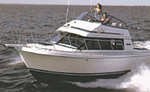 Time Tested/Power
Sibling Rivalry—
Jack Hornor
takes a close look at Carver's nearly identical sisters, the 28 Mariner and 28 Voyager.
Tech Support
Eyes Front—
Stephen Fishman
talks about radar, how it works and how to choose a system for your boat.
Marina Hopping
Snug Harbor—To escape a coming storm,
Paul Clancy
ducks into Horn Harbor Marina, a quiet haven just above Mobjack Bay.
A-Dock Confidential
Boy Meets Dog—When Doofus the dog brings home a small, stray child, keeping it is simply out of the question.
By George Trennig
Cruise of the Month
A Sail on the Wild Side—
Diane Selkirk
finds plenty of anchor room off the Eastern Neck National Wildlife Refuge at the mouth of the Chester River.
Reader Rendezvous
Bridge Bustin'—The Pocomoke River has its share of bridges, reader
Rob Ransone
discovered when he and his family made the trip upriver in their sailboat. But he never imagined he'd be hanging out on one.
Trading Places
Endangered Species—Jerry Pruitt is the last wooden-workboat builder on Tangier Island, and from the looks of things, he's likely to remain that way.
By Karen Jolly Davis
Angler's Almanac
Rocky Superstar—The rockfish still remains at the head of the class when it comes to Chesapeake Bay school fish, says
John Page Williams
.
Stern Lines
Going Solo—It looked like so much fun, and there was no earthly reason why
Katherine Brown
shouldn't go off by herself in the family daysailer.
On the cover:
Sunlight brightens an anchor at the bow of a cargo ship hustling up the Bay.
Photograph by John Bildahl.