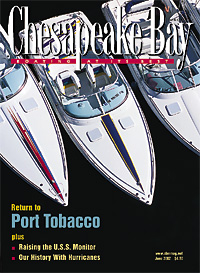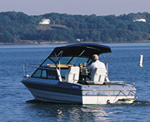 September Song

Editor-at-large
Constance Bond
fell in love with the mysterious church bells she heard on the Port Tobacco River a decade ago. She went back there last September to hear them again—and to unravel the other mysteries of a once-thriving colonial port.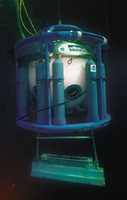 Into the Light
Hauling the long-hidden remains of the U.S.S. Monitor to the ocean's surface off Cape Hatteras requires teamwork and not a little chutzpah. Writer
Paul Clancy
and executive editor
Wendy Mitman Clarke
report on the Mariners' Museum's efforts to piece together the Civil War ironclad that changed naval history.
Shelter from the Storms
June ushers in the official hurricane season, when the subtropics begin to unleash lethal storm cells, any one of which could end up in our backyard—but probably won't.
Marty LeGrand
takes a look at the whys, whens and wheres of these powerful forces and looks back to the storms that did make their way to the Chesapeake.
Nautical Know-How
Singing the Body Ecliptic—In which Tom Dove explains that the sun doesn't actually set in the west (or rise in the east, for that matter)—just in case any of you were wondering.
Time Tested
Hip-Pocket Cruiser—The Nimble Nomad is as handy for a family picnic as it is for long-distance coastal cruising—by land or by sea. By Jack Hornor
Marina Hopping
Cape Changes—Karen Jolly Davis's hometown docks at Cape Charles, Va., are undergoing renovations that will make the harbor at the mouth of the Bay more hospitable than ever.
A-Dock Confidential
The Whole Fam Damly—Jerry Renninger learns to count his blessings when family, including one charming grandchild, descend upon Our Tub.
Cruise of the Month
Culture and Cookies—Katherine Brown's cruise to the Baltimore Museum of Industry on the Patapsco River opens up a window on Baltimore's past, not to mention a bag of Berger cookies.
Reader Rendezvous
Maiden Voyage—Doreen Naughton and her boyfriend thought they were ready to buy a boat and bring it up from the Carolinas all by themselves. The all-by-themselves-part worked just fine, the other parts left a lot to be desired.
Angler's Almanac
Pier Pleasure—Fishing from public piers can put you where the fish are every bit as well as a boat can. John Page Williams tells you where they are and what to look for on the end of your line when you get there.
Stern Lines
Her Move—Nancy Allison discovers the Bay-based Monopoly spin-off—and perhaps a way to turn the tables in a boardgame sibling rivalry.
On the cover:
Power trio.
Photograph by John Bildahl.