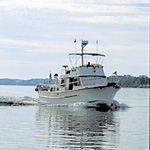 Compass Rose
The Northeast River sits at the top of the Bay, and the town of North East, Md., sits at the top of the river.
Nancy Taylor Robson
takes us along as she explores both for the first time.
Diary of a Makeover
It was a labor of love when boatowner
Larry Cate
decided to update his 1989 Cigarette rather than replace it.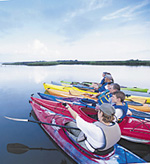 Trailblazing
Mike Brown
pulls out his paddles and hits the trail—the water trail, that is—to explore the new network of waterways that are popping up around the Chesapeake. Kids, don't try this in your keelboat.
Bay Window: A Stitch in Time
Joe Freitus
learned how to sew sails aboard Old Ironsides. Now he takes care of the canvas for the traditional ships at Jamestown Settlement.
By Gene Bjerke


Nautical Know How

Boatowner, Heal Thyself—
Tom Dove
finds out how boatyard operators define the term "good customer."

Time Tested: A Guide to Good Old Boats

Main Attraction—Mainship 34s make for comfortable, economic cruising. But you have to find the right one.
By Jack Hornor

Marina Hopping

Northern "Rivah" Country—
Diana Prentice
found everything she needed on the Yeocomico River, from engine parts to peace and quiet.

A-Dock Confidential

Megan Loves Buddy—You'll meet them at every dock: a couple of young cruisers living on love. New columnist
George Trennig
found this pair.

Cruise of the Month

Sounds of the South—When
Andi Manchester
rowed ashore at Quiet Waters Park on the South River, she got an earful of free music on the green. And she's going back.

Reader Rendezvous

Bachi on the Bay—What goes around comes around. That's what
Bill Kenny
learned motoring down the Wye.
Angler's Almanac

Stealth Fishing—Paddle softly and carry a big fishing pole, says
John Page Williams
about fishing from canoes and kayaks.
Stern Lines

I Like to Watch—She's supposed to be doing the teak, but
Diana Prentice
can't help but admire those Wednesday night racers on parade
.

WeatherEye
Cruisers Calendar