VOLUME 34 - NUMBER 2 - JUNE 2004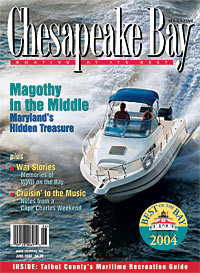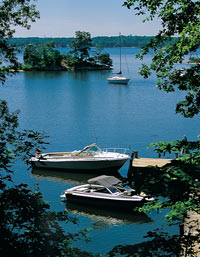 Magothy in the Middle On the Magothy River, wedged between the Severn and the Patapsco on the Western Shore, editor-at-large Joel McCord found plenty of amenities for boaters: quiet marinas, scenic anchorages and weekend party spots. More than that, he found a dignified sense of history and a group of river residents who want to keep their waterfront special.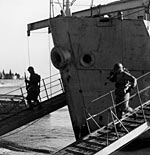 A War Fought Here As World War II raged in Europe and the Pacific, the U.S. readied its troops on the shores of the Chesapeake Bay, and citizens from Baltimore to Norfolk rolled up their sleeves and pitched in to help. Writer Jim Duffy tracked down some of the veterans who went to war and the shore-side support personnel who trained them, fed them or simply made room for them in cramped quarters. His is a story of sacrifice, courage and torpedoes going astray on the Patuxent River.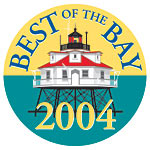 Best of the Bay Yes, now's the time when
our readers tell us their favorite haunts here
on the Bay. From crabcakes to gunkholes . . .
well, they never really come clean about the gunkholes.
Some things are sacred, after all.
Nautical Know-How
In the Dark—Good night vision is critical to safe nighttime cruising. David G. Brown passes on some tricks of the trade when night maneuvers are called for.

Time Tested
Toot Sweet—Nordic Tugs produces a line of salty looking cruising tugs that remain highly popular with the trawler set. By Susan Canfield

Marina Hopping
The Strong Silent Type—Gene and Katie Hamilton cruised up the Chester River to Long Cove Marina on Langford Creek, a do-it-yourself kind of place.

A-Dock Confidential
The Social Swimmer—Giving swimming lessons is not Jerry Renninger's forte. But you can count on the Dragon Lady for almost anything.

Cruise of the Month
Rhythm 'n Blues—Karen Jolly Davis and her family cruise to the Blue Crab Music Festival in Cape Charles, Va.

Reader Rendezvous
Father's Day—Drew Jones was in a quandary, trying to figure out a safe way to take his handicapped son sailing with the rest of the family.

Angler's Almanac
On the Fly—No longer a boutique sport, fly-fishing has come into its own on the Chesapeake Bay as more and more folks take up the sport for the pure pleasure of it, says John Page Williams.

Stern Lines
Follow That Bird—Katherine Brown and her family tried to make it all the way up the Elk River to Elkton. With the help of a friendly egret, they almost made it.

On the cover: Looks like a winner: A small power cruiser takes on the Bay.
Photograph by Scott Sullivan