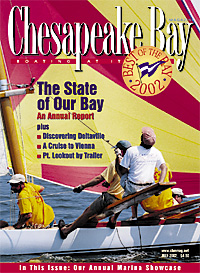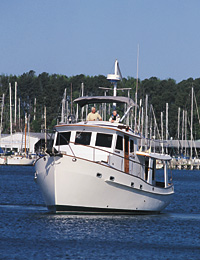 Looking for Deltaville

Managing editor Jane Meneely
went looking for Deltaville, Va.,
and found plenty of boats,
boaters and boaty stuff in
this waterfront town at
Stingray Point, between
the Rappahannock and
Piankatank rivers.
Best of the Bay
Whether it's for eating, anchoring, fishing or just hanging around and having fun, our readers once again reveal their favorite places to go and things to do on the Bay.
Vienna Waltz
Following the Nanticoke River, writer Diana Prentice and her husband Ray meandered all the way to Vienna, Md., aboard their sailboat Strider. The quiet village near the Route 50 bridge gave them a hero's welcome.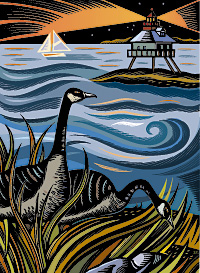 The State of Our Bay
In our annual environmental report, writers Tom Horton,
John Page Williams, Wendy Mitman Clarke and Joel McCord
report on the Chesapeake's most pressingissues—from
air pollution and stormwater runoff to sick rockfish,
stream buffers and crab harvest restrictions.
Nautical Know-How

Eye, Eye, Captain—Summer glare can spell real trouble for a boater's eyes. Tom Dove takes a look at sunglasses to see just how they protect us.
Time Tested
Three's the Charm—The F27 trimaran from Corsair Marine offers speed as well as comfort to sailors who want to get there in style. By Tom Dove
Marina Hopping
Portsmouth Rocks—Paul Clancy pulls into Ocean Marine on the Portsmouth waterfront to check out the new facility, and the Lyle Lovett concert going full tilt at the Telos Pavilion next door.
A-Dock Confidential
Bless this Mess—He tries, but being tidy just isn't one of Jerry Renninger's many talents. Fortunately, he doesn't mind the mismatched socks.
Cruise of the Month
No-see-ums, Ghosts and Great Fishing—Karen Moore and her family got a surprise dose of history when they trailered their boat to Point Lookout State Park, at the mouth of the Potomac River. The great fishing went without saying.
Me & My Boat
Smitten—Mary K. Reid took one look across a crowded boatyard and saw the boat of her dreams.
Trading Places
Dream Builder—Peter Boudreau
has built plenty of beautiful boats
in his day, the Pride of Baltimore II
among them.
By Wendy Mitman Clarke
Angler's Almanac
Grass is a Gas—With the Bay's underwater grasses gradually recovering, says John Page Williams, it makes sense to learn the tricks of grass-bed fishing.
Stern Lines

Color Us July—Katherine Brown recalls the delight of a Fourth of July evening on the hook, when notions of romance were just a firecracker away.
On the cover:
The log canoe Persistence under sail.
Photograph by Michael C. Wootton.