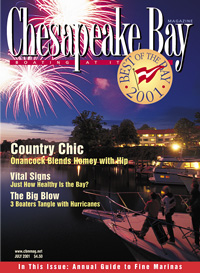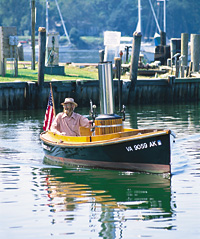 Up a Creek
Getting there is only half the fun.
With colorful restaurants and a
lively summer festival, Onancock, Va.,
is one of the most popular
Bay destinations.
By
Nancy Taylor Robson
The State of Our Bay
In the first of what will be an annual report on the Bay's most pressing health issues, we focus on the recent decline of the blue crab and the looming threat of silt overload from the Susquehanna River.
Splash And she's afloat!

Sultana, the Bay's newest floating classroom, will be commissioned this month in Chestertown, Md.
Nancy Taylor Robson
, who has chronicled the replica ship's story from the beginning, watches as she hits the water.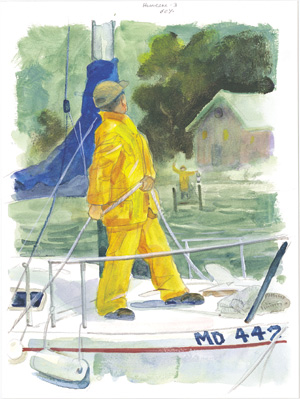 Three Against the Storm
Three of our readers have graciously shared with us their tales of derring- and not-so derring-do in the face of hurricanes sweeping up the Bay:
Jorge F. Garcia,W. Wayne Smith and Justin Williams Jr.

Blown Away
And speaking of hurricanes, what if the Big One were to come roaring up the Bay this summer?
Stephen A. Knox
gives us a hurricane prep talk, the better for us to face down the storm.
Best of the Bay
Yup. It's that's time again. Our readers give us their take on what's what, where's where and who's who on the Bay.




Time Tested: A Guide to Good Old Boats
Sweet Surprise—Chris Craft used a New England fishing dory as its inspiration for the Cavalier. Smart move. By
Jack Hornor
Marina Hopping
Port in a Storm—
Paul Clancy
was glad to get to Southall Landings Marina in Salt Ponds. He found good food, good shelter and good service.
A-Dock Confidential
Epiphany at Wounded Knee—It was only a flesh wound, but it certainly drew a crowd to
George Trennig's
assistance. Some of them spoke English.
Cruise of the Month
Ghosting Past Tippity Wichity—With sounds of honky-tonk ringing in his ears,
Richard C. Goertemiller
could have sworn that life on Tippity Wichity Island on the St. Marys River hadn't changed much over the years.
Me & My Boat
Changing the name of your boat isn't as simple as painting a new one across the transom. Ask
Bill Hagis.
Trading Places
Fast Company — Brothers Chris and Earle Hall liked speed from the very beginning, but few could have predicted the swift and steady rise of Bluewater Yacht Sales, one of the premier sales and service outfits on the Bay.
Angler's Almanac
Learning to Let 'Em Go—
John Page Williams
talks about catch and release techniques, and it's not all in the wrist.
Stern Lines
Keep Your Shirt On— In an effort to make the world a better place,
Allen Delaney
goes so far as to suggest that middle-aged gentlemen should remain fully clothed while out and about on the waterfront. Not a bad idea, all things considered.