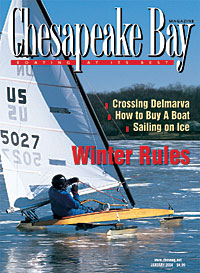 Bald Cypress and Pumpkin Cream Pie
The Nanticoke River off the Bay threads nearly to the headwaters of the Indian River, off the Atlantic. Thinking that perhaps she could discover a water route that completely bisected the Delmarva Peninsula, editor-at-large Connie Bond began exploring, first aboard her Parker 22, then in her kayak. She went from Bay to ocean, and along the way got a rare and wonderful glimpse of Delmarva's thriving riverfront heartland—and a taste of prize-winning pie.
Taking the Plunge
Buying a boat can be a formidable step for first-time buyers and seasoned salts alike. Gary Beckett walks us through the new-boat buying process in this first of a two-part series.
Cool Runnings
Last winter saw record levels of ice and snow here on the Bay, and plenty of opportunities for the local iceboating fleet to take a turn around the buoys. Photographer John Bildahl catches the fleet and its sailors in all their glory.
The Contender
Shucking oysters over the kitchen sink led to the discovery of an unlikely houseguest. J.W. Corse describes the visit of Rocky Crab and his (or her) return to the wild.
Departments
• WeatherEye
Mail Call
Channel 9
New Boat News
Gear & Gadgets
• Cruisers Calendar
Galleys Ashore
Boat Club News
Bay Business
Tide Tables

Advertising Sections
Nautical Know-How
Other People's Boats
—Rob Pond has found more than one way to get his boating kicks—even if he doesn't own a boat. Here he talks about the alternatives to boat ownership.
Time Tested
True Norse
— The Viking 43 Open Express will take you there and back again in comfort and style. By John Page Williams
Marina Hopping
Those Tangier Intangibles
—When Diana Prentice cruised for the second time into Parks Marina on Tangier Island, she felt at home and, more importantly, remembered.
A-Dock Confidential
Fig Newtons and Other Ruses
—Pirates have been and remain a threat on the high seas. And lest we forget, Jerry Renninger reminds us that such cutthroats could still be lurking in the Bay.
Cruise of the Month
Front Row Seat to History
—Cruising up the Patuxent River to Sotterley gives Diana Prentice a sterling glimpse of the Bay's past.
Reader Rendezvous
Night Sail
—It was broad daylight when Drew Jones left the slip for an afternoon sail. But between the wonders of the day and the vagaries of nature, he found himself wrapped in the magic of the night-time Bay long before he made it back home.
Angler's Almanac
Tackling Winter Chores
—John Page Williams helps anglers ready their gear for the next season.
Stern Lines
Food For Thought
—Cooking in the tiny galley aboard her sailboat doesn't bother Diana Prentice a bit, unless she considers the alternative.
On the cover:
An iceboat flies down the Bush River.
Photograph by John Bildahl