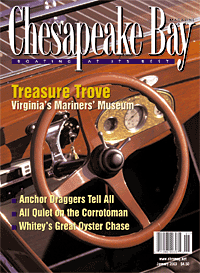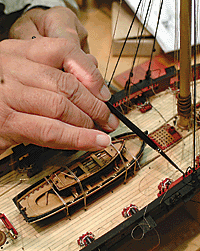 Mariners' Booty
With the raising of the U.S.S. Monitor's gun turret and other artifacts, there's a lot going on these days at the Mariners' Museum in Newport News, Va. But there's also much more to see in this vast museum complex. Editor-at-large Constance Bond leads us through its galleries and gets us behind the scenes to meet the people responsible for cataloging our maritime past.
They Slurp Oysters, Don't They?
Speaking of tours, Bay seafood maven Whitey Schmidt takes us along to some of his favorite oyster houses, where he samples a tantalizing variety of bivalves from the Chesapeake and beyond.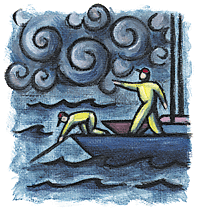 It's a Drag
We let our readers take over in this trio of tales about dragging anchor: Paulette Goldstein tells us of the time she and her husband found themselves (aboard their Sea Ray) adrift in the St. Michaels harbor; Michael Blaine recalls the time he and his father went to sleep in one creek and woke up in another; and Donald Welsch talks about lessons learned while riding out a big blow in Dun Cove.
Good Boatkeeping
Walking the Dog—It behooves us to wake even the sleepiest of maintenance dogs, says Frank Lanier. By the time those hidden trouble spots start to bark, it could be too late.
Time Tested
Post Time—Post Marine's 42-foot sportfisherman remains a benchmark for the industry: solid construction, thoughtful layout and a good fishing platform to boot. By Jack Hornor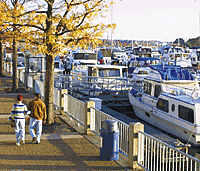 Marina Hopping
Worth the Wait—When Diana Prentice finally carved out enough time to cruise to Washington, D.C., she found the venerable Capital Yacht Club as welcoming as the capital city itself.
A-Dock Confidential
Joinery Work—Sharing the small quarters of a boat puts a whole new slant on the nature of companionship, says liveaboard Jerry Renninger.
Cruise of the Month
Rediscovering the Magic—Jim Stalnaker heads up to the headwaters of the Corrotoman River with his twin granddaughters aboard. Amid a flood of memories he finds a whole new world waiting to be explored.
Me & My Boat
A Thorny Love Affair—First James T. Spaulding rescued an abandoned boat from death-by-dumpster. Then, with the staunch support of his wife, he began rebuilding the classy little sailer, one Band-Aid at a time.
Angler's Almanac
In with the New—Now's the time of year for all you anglers to take a fresh look at the variety of fishing opportunities around the Bay. You never know what you may be missing. By John Page Williams
Stern Lines
An Intimate Adventure— A small boat does nothing if not bring a family together into a special kind of closeness. Snug at anchor in Reed Creek, Katherine Brown contemplates the wonders of family cruising.
On the cover:
A vintage Chris Craft on display at the Classic and Antique Boat Show.
Photograph by Bob Grieser.