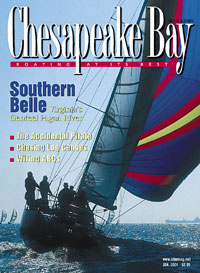 No Pagans on the Pagan
There are more churches than marinas in these parts, but writer
George Trennig
still finds plenty to do on the Pagan River and in the town of Smithfield, Va.
Bay Window: Wall Hanging
Artist Cindy Fletcher-Holden painted more than just a mural on a quiet street in Eastport. She portrayed the neighborhood's maritime heritage in flying colors.
By Connie Bond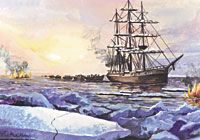 The Accidental Pirate
James Iredell Waddell
has
the distinction of firing the last
shot of the Civil War—well after
peace had been declared.
Writer
Jeff Holland
chronicles the exploits
of this Confederate captain
from Annapolis.
Getting Wired
Rewiring your boat can add greatly to your peace of mind and expand creature comforts aboard. But
technical editor Tom Dove
cautions you to hit the books first.

Good Boatkeeping
That Sinking Feeling—
Writer Stephen A. Knox
shares some pointers on how to keep your boat out of Davy Jones's locker.
Time Tested: A Guide to Good Old Boats
Fish Finder—The Grady-White Offshore 24 fishing boats can catch 'em and stash 'em.
By Jack Hornor
Marina Hopping
A Capital Plan—
Giles Kelly
heads into James Creek Marina on a recent visit to Washington, D.C.
Telltales
A Trail of Teethers—In which sail ties take on a whole new meaning for
executive editor Wendy Mitman Clarke
and her family.
Cruise of the Month
Birds on the Wing—Chesapeake Bay log canoes make
managing editor Jane Meneely's
trek up the Miles River a memorable one.
Reader Rendezvous
Dog Days—Coffee was just a stray pup when he wagged his way aboard
Dorothy Winslow Wright's
boat.
Angler's Almanac
All About Rods—And Huck thought all he needed was a bamboo pole. . . .
By John Page Williams
Stern Lines
Sharps and Flats—
George Trennig
says knives are a must on any boat, especially when The Dragon Lady has come aboard.
Reed Creek Journal