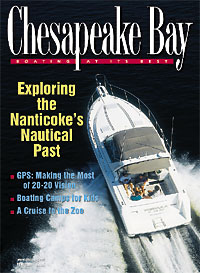 The Seaman's Sanctuary
The Nanticoke River used to be a major thoroughfare for the Delmarva peninsula.
John Page Williams
slides his boat in the water and takes us on a trip through history.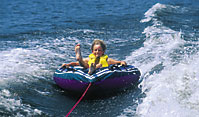 Happy Campers
Katherine Brown
goes in search of summer boating camps, and finds a Chesapeake shoreline rife with gleeful, smiling kids who are learning the ways of the Bay in boats large and small.
When Suga Met Fraz
She didn't tell him about the love handles; he didn't tell her about the buckets he kept on board his boat to catch the leaks when it rained. But none of that matters when Cupid strikes, says
Lynne DuMouchel Baldwin
.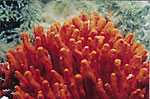 Not Quite a League Under the Sea
Former NOAA aquanaut Morgan Wells is taking retirement to new levels by submerging himself in a home-built underwater habitat for a clam's eye view of the Bay. By
Blanche Herring Scharf


Nautical Know How

All Clear—Tom Dove tells us that electronic navigation has really come into its own for Bay boaters, now that the feds have turned off GPS selective availability.
Time Tested:
A Guide to Good Old Boats
Cat's Meow—Annapolis-built Gemini catamarans still fill the sailing cruiser's bill. By Tom Dove
Marina Hopping
Make it Deale—A friendly feed at Shipwright Harbor in Deale, Md., gives Andi Manchester food for thought.
Prop Wash
The Wave Defined—Who waves to whom and when? Leon Frank enlightens us (sort of) on the etiquette of boat-to-boat greetings.
Cruise of the Month
The Bay's Own Zoo—The waterfowl sanctuary at the Horsehead Wetlands Center near Kent Narrows makes an interesting stopover. By Katherine Brown
Dire Straits
Foggy Bottom—It was a cold day in hell when Willard Standiford tried to deliver his Soling to Middle River.
Angler's Almanac
The Reel Story—John Page Williams spins a tale about the whys and wherefores of fishing reels.
Stern Lines
Ha, Said the Rebel—Much to Mom Patricia Hackett's chagrin, Dad was the hero in the family's run-in with a demonic engine.
WeatherEye