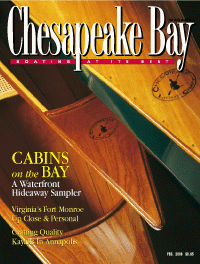 Of Moats, Boats and a Dog Named Gus

The citadel at Virginia's Fort Monroe harbors more than just Civil War history, according to writer
Constance Bond,
who discovered a pet cemetery high atop its walls.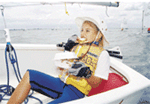 Eternal Optimists

These kids look mighty cute in their chubby little sailing prams, but today's cherubs will be tomorrow's devils on the racing circuit, and for many, that's the plan.
By
Wendy Mitman Clarke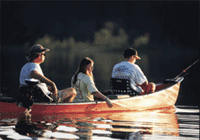 Cabin Soul

Looking for a waterfront vacation with all the trimmings? Writer
Deborah Rider Allen
tracks down rentable retreats on Maryland's Eastern Shore and Virginia's Rappahannock River.

Bayfield Rendezvous

Every fall, all the Bayfield boats within hailing distance raft-up on the Magothy River to swap news and notes. This year writer
Peter Svenson
joins them.

Channel Nine
Up she rises . . . Norfolk's new ladies . . . Light plates.

Nautical Know-How
Keep it Simple, Sailor—Wanting a small boat is one thing, finding it can be quite another, says Tom Dove.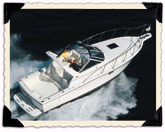 Time-Tested: A Guide to Good Old Boats
A Jewel in the Crown—The Tiara 29 Open is a princess of a pick on the used-boat market. By Jack Hornor

Marina Hopping
"Cap'n May I Fill Your Tanks?"—Bob Slaff lets the staff at Haven Harbour Marina in Rock Hall, Maryland, take over.

Prop Wash
We're All Olafs on this Boat—Writer Leon Frank ponders the nautical learning curve.

Cruise of the Month
Going with the Wind—Jim Stalnaker found plenty of ante-bellum mansions along the North River off Mobjack Bay.

Reader Rendezvous
The Road to Heaven—He'd wanted to get together with his friends for a long time, but Douglas Eagles didn't realize what he'd have to go through to meet them on the water.

Trading Places
The Whole Kit and Caboodle—Wendy Mitman Clarke surveys the scene at Annapolis-based Chesapeake Light Craft.

Angler's Almanac
What's My Line—John Page Williams wraps it up and reels it in, where fishing line is concerned. Plus, Fishin' and Family Boats—Boston Whaler 18 Outrage.