White Lights and Water

Braving the inevitable foul weather, contributing writer Marty LeGrand (with her mom in tow) joins the throng at the annual weekend Christmas bash in St. Michaels—where they never let a little rain or snow ruin Santa's parade.
Navigating the Shoals of Charting
Mapping the Bay bottom is an enormous and essentially never-ending task—though, with new high-tech methods, it is at last becoming more of a science than an educated guessing game. Peter F. Frost introduces us to the people who plumb the depths.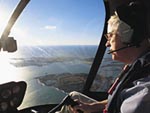 On a Wing and a Prescription
Once a week, Dr. Steven Nichols and staff climb aboard a plane or helicopter and head for Tangier Island. Contributing editor Paul Clancy tags along for a day of long-distance doctoring.






Departments
• WeatherEye
Mail Call
Channel 9
New Boat News
Gear & Gadgets
• Cruisers Calendar
Galleys Ashore
In the Galley
Boat Club News
Bay Business
Tide Tables

Advertising Sections
Boat Review
• Cruisers 4050
• Carver 360 Sport Sedan
Advertisers' Index
• Classifieds



Nautical Know-How

A Ditch Kit Primer
—Abandoning ship is not the time to wonder where you put your flares. Jerry Renninger tells us why we should always have a ditch bag aboard, and what should be in it.
Time Tested

Sun Queen
—Jeanneau's Sun Odyssey 32.6 is well built and easy to sail, says Tom Dove, a solid Bay cruiser for a small family or couple—"sleeps four, sails six, drinks eight."
Marina Hopping

Laid-back Landfall
—Katherine Brown cruised into Virginia's Perrin River to find that both Mother Nature and Domino's deliver to Cook's Landing Marina.
A-Dock Confidential

It's not Easy Being Anti-Green
—Liveaboard Jerry Renninger at last tells us what drove him away from a normal life on dry land: lawns and landscapes. Whatever you do, don't send him a poinsettia for the holidays.
Cruise of the Month

An Unintentional Nature Preserve
—When Amy Smith satisfies her curiosity about the doomed fleet lying awash in Mallows Bay, she discovers an astonishing variety of aquatic wildlife.
Trading Places

Dr. Wood is In
—Nancy Taylor Robson makes the trek to West Chester, Pa., to chat with Mike Haines of Haines Vintage Watercraft, where old wooden runabouts are the order of the day.
Angler's Almanac

Where the Fish Go
—Boats aren't the only things that head south when winter settles in, says John Page Williams. Fish head for warmer climes as well, and the wise angler can catch 'em as they leave.

Stern
Lines

Fish Hawk Down
—Diana Prentice witnesses the rescue, by her husband and a bird-loving waterman, of a downed osprey nest in San Domingo Creek.
On the cover:
The Chesapeake Bay Maritime Museum takes on the colors of the holidays.
Photograph by Lisa Masson.