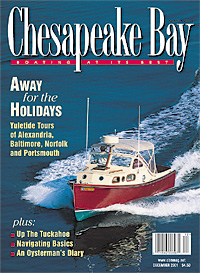 Away for the Holidays
It may not be easy to get
out on the water this time
of year, but that's hardly
a reason to miss the holiday
celebrations around the Bay.
Marty LeGrand and Paul Clancy
prowl the yuletide waterfronts
of the Potomac and Elizabeth
rivers, while Jim Duffy heads
up Baltimore's Charles Street
for a monumental take on
the holiday theme.
He Did it His Way
Joe Rose saw wealth and opportunity in the high ground of Herring Bay's south shore, and he wasn't about to let something as mundane as county regulations get in his way. Writer Eugene L. Meyer tells us all about the mercurial man who developed Rose Haven's marina and yacht club—known nowadays as Herrington Harbour.
Opening Day
Waterman E. Marcus Thomas
and his partner, the Iron Man, go diving for dollars
on the first day of the oyster season, and
crank 30 bushels' worth of the tasty
little bivalves into their cockpit.
Another waterman shadows them
every inch of the way, but the cute
DNR cop never shows.
Nautical Know-How
Aerobics for Navigators—What do you do when the gadgets go kaput? Steven Knox runs us through the navigation basics we all should know.
Time Tested/Sail
Weekend Warrior—The J/105 is a spunky little racer, but can make do for family cruising too. By Tom Dove
Marina Hopping
Hiker Heaven—When Richard Rose pulled into Summit North Marina on the C&D Canal, he wasn't sure what to expect, but he was sure of what he got: good service and a bit of a hike uphill.
A-Dock Confidential
Civility Lives—It's a long walk from St. Michaels to the Waterfowl Festival in Easton, but George Trennig manages the trek in style (with
the Dragon Lady and Doofus). Along the way he learns that the Golden Rule is alive and well on the Eastern Shore.
Cruise of the Month
Tucked Away—Executive editor Wendy Mitman Clarke goes for a splendid spin up Tuckahoe Creek, off the Choptank River.
Reader Rendezvous
The Rocky Air Show—The only character missing is Bullwinkle in this tale of a flying squirrel by reader Linda Kalb. But a moose loose on your boat? A squirrel is quite bad enough, thank you.
Angler's Almanac
A Balanced Winter Diet—'Tis the season to kick back by the fire and dream of fish to come. John Page Williams helps out with a winter reading list that will keep any angler on the line.
Stern Lines
Hitting Home—Searching for an old snapshot, writer Diana Prentice stumbles on a photo of the New York skyline, taken when she and her husband cruised through a few year's back. The picture brings things into focus.
On the cover:
Le Renard reaches to the Bay.
Photograph by Bob Grieser.