A Havre de Grace Holiday
Once the bustling terminus
for the Susquehanna and
Tidewater Canal, Havre de Grace, Md.,
is now the end-of-the-road for
antiques lovers and chocoholics
like
Jane Meneely
.
A Boat for all Reasons
Like a true child of the 60s, the Bertram 31 broke all the rules—and records. Now a whole fleet of these sassy sportfishers have made themselves at home on the Bay, a far cry from their native Florida.
By Wendy Mitman Clarke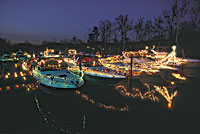 Christmas in Sea Ray City
He had just wanted to go
and see what the shindig
was all about, but then they asked him to judge the boat decorating contest—him,
David B. Bowes
, stodgy journalist
cum laude. Pass the
sugar plums, please.

Nautical Know How
Small Fry—So many boats, so little time . . . Tom Dove points out a fleet of small, affordable sailboats that can get you started in the sport without breaking the bank.
Time Tested: A Guide to Good Old Boats

Tried and True—According to Tom Dove, there are plenty of reasons why the Catalina 30 has been around for such a long time. Plenty of good reasons.
Marina Hopping

Getting to the Pointe—A new marina beckons from Lynnhaven Inlet. Long Bay Pointe Boating Resort offers overnight dockage and full-body massages. What more could a boater want? By Clyde Leatherwood
Prop Wash
Changing Standards—Giving up his powerboat and switching to a sailboat would be cheaper, but how low could Leon Frank go?
Cruise of the Month
Above the Bridge—A world of quiet beauty waited for Tony Muldoon when he headed past Chestertown and cruised all the way up the Chester River.
Me & My Boat
Perchance to Dream—Bruce Holly found just what he was looking for in an Eastern Shore cornfield: a 19-foot Drascombe lugger.
Trading Places
Passing the Bar—Virginia boatbuilder Steve Zimmerman defied the law of averages when he set up shop on Mobjack Bay. By Wendy Mitman Clarke
Angler's Almanac
Winter Workshop—John Page Williams is just full of ideas for getting your boat whipped into shape for your kind of fishing.
Stern Lines
The Living River—Like Kenneth Grahame's Ratty, George R. Merrill finds meaning in the river itself.
Reed Creek Journal