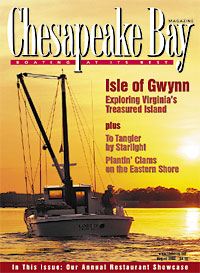 An Island Apart
Just off the western shore of Virginia, Gwynn's Island has long been a quiet haven for watermen and their families. Executive editor Wendy Mitman Clarke sailed there last fall and found a place of uncommon beauty, intriguing history, and people with an enduring sense of community.
Auxiliary Power
Whether they're standing radio watches, taking part in search-and-rescue missions or helping direct boating traffic at the start of some big Bay event, the volunteers of the U.S. Coast Guard Auxiliary are busier than ever these days. Nancy Taylor Robson takes us behind the scenes.
Mud Wrestling
Kedging your boat off a shoal is a time-honored boating tradition, and there's no better place to practice it than on the Bay's sandy spits and muddy bars. This is especially true, says Patricia Hackett, when your boat draws six feet, it's way past cocktail hour and your patience is worn thin.
And on His Farm He Had a . . . Clam?
In the shallow waters of Virginia's lower Eastern Shore,
aqua-farming is taking hold as a dependable,
lucrative way for watermen to make their living.
Karen Jolly Davis explains how the independent
growers of Cherrystone Aqua-Farms
tend their crops of bivalves.
Good Boatkeeping
On the Spot Check—Frank Lanier shows how to check out a diesel engine, to see if the boat you're hot to buy is worth hiring a marine surveyor.
Time Tested
Silver Belle—Although it is fundamentally a fine cruising boat, Silverton's 37-foot convertible also has a reputation for keeping the anglers aboard happy. By Susan Canfield
Marina Hopping
On Baltimore's Doorstep—Andi Manchester finds that Henderson's Wharf Marina, in the heart of Fells Point, gives easy access to all of Charm City's sights and sounds.
A-Dock Confidential
Crazy Beautiful—Beauty and sanity are in the eyes of the beholder, says Jerry Renninger, and there's plenty to behold at his marina.
Cruise of the Month
Night Passage to Tangier—When Paul Clancy decided to do some night sailing, the remote and lovely Tangier Island was the perfect destination.
Me and My Boat
How I Spent My Summer Cruise—Thomas L. Berry looked forward to nine days on the water. But first he had to get away from the dock.
Angler's Almanac
Hard Baits Go High-Tech—It's been 110 years since James Heddon whittled the first plug that, legend has it, launched the hard bait business. John Page Williams looks at four contemporary companies that use computers, cameras and test tanks to make today's beautiful swimmers.
Trading Places
Digital Wizards—Mark Pringle and Floyd Phillips founded Nautical Solutions International to give anglers 3-D charts of the bottom. Now their product is reaching far beyond fishermen. By John Page Williams
Stern Lines
The Red Hot Chili Peepers—Escort's spring shakedown cruise got a little more complicated when managing editor Jane Meneely found a nest-full of baby birds under the windlass cover.
On the cover:
The Lori D motors off Gwynn's Island.
Photograph by John Tobin