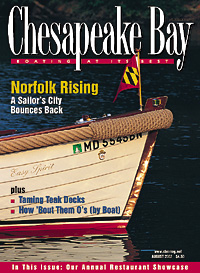 Phoenix Aloft
Once known as the place for loose women and tight sailors, Norfolk has truly cleaned up its waterfront, where you'll find snazzy stores, posh eateries and the city's very own battleship (it is a Navy town, after all). Writer and resident Paul Clancy takes us on the tour, from riverside mosh pits and coffee bars to cultural hot spots like the Chrysler Museum.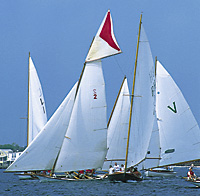 Battle of the Bays
There's no good reason to trailer Chesapeake Bay log canoes clear to New Jersey to race against Barnegat Bay's A-Cats, or is there? Executive editor Wendy Mitman Clarke learns the answer, and lives to tell.
Glory Sail
At the close of her high school senior year, Mimi Grossman and her classmates headed out for a week of sailing on the Bay. As her journal will attest, it was a memorable experience and on final analysis, well worth the raw oyster.
Good Boatkeeping

Beauty and the Beast—Taking care of teak decks can be a pain in the toe rail, but marine surveyor Susan Canfield shares her secrets, acquired from years of firsthand experience.
Time Tested
The Maine Attraction—The Duffy 35 comes to us from lobster country, where the boats are strong and the fishermen are above average. By Jack Hornor
Marina Hopping
Small is Beautiful—Deep Creek Marine Service operates from the mouth of the Pocomoke Sound—a tad shallow perhaps, but as insular a place as any you'll find. By Constance Bond
A-Dock Confidential

Letting Go—When an elderly liveaboard heads to Fiddlers Green, the marina community rallies to give him a burial at sea. With Jerry Renninger at the helm, all is well—or is it?
Cruise of the Month

Home Run—Trish Lehman cruises with the local Alberg 30 fleet to Baltimore for an Orioles game.
Reader Rendezvous

One Proud Papa—Cruising with his kids was always a pleasure, and writer Chuck Royster trained his young crew well. It showed.
Angler's Almanac

Seeing the Unseen—Look "below" the top of the water and learn to sense what is happening in the depths, says John Page Williams.
Stern Lines
A Dream in Green—When Julie Gammack finally test-sailed the boat that had captured her imagination (and her checkbook), she was in for a rude awakening.
On the cover:
Flyin' the flag. Photograph by John Bildahl.