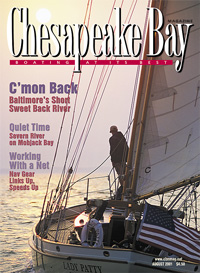 Got Your Back
Writer
George Trennig
spends a weekend exploring Maryland's Back River and learns that, for all but the deep-keeled, it's a place to go to, as well as from.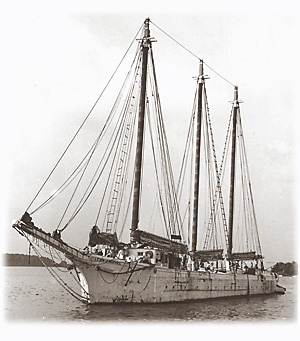 The Wreck of the Levin J. Marvel
When Hurricane Connie blew up the Bay in August 1955, she ended the life of the ram schooner Levin J. Marvel—and 14 of her passengers. The tragedy set the stage for stricter Coast Guard regulations governing passenger vessels. Tim Zimmermann recounts what happened on the Marvel's final voyage.
Thomas F. Norton
interviews Marvelsurvivor John Ferguson.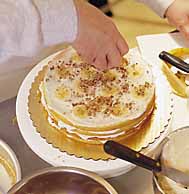 A Cake for all Seasons
From their busy Crisfield kitchen, partner bakers Toni Tawes and Carolyn Evans of Delmarvalous Cakes whip up a Chesapeake original: the Smith Island ten-layer cake. We think it's the most delicious vehicle for icing yet devised.
By Constance Bond
Can't make it to Crisfield to pick yours up? We've got the
basic recipe
right here.
Bay Faces: King of the Hill
Peter Rice could easily be called the Pied Piper of Echo Hill Camp. Children and staff alike will follow him anywhere—even, as
Nancy Taylor Robson
learned, into the deepest, darkest and muckiest of Chesapeake swamps.
Good Boatkeeping
Know Your CO—Carbon monoxide is deadly, no two ways about it. Tom Dove tells us how to recognize the symptoms of CO poisoning and how to prevent it on our boats.
Time Tested: A Guide to Good Old Boats
Amazing Grace—As practical as it is pretty, the Alberg 37 still turns heads in any harbor. By Tom Dove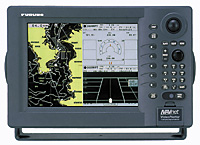 Tech Support
Bringing the Net Onboard—In this first of a new bi-monthly column on marine electronics, Tom Dove checks out the Furuno NavNet. It ain't cheap, but it sure makes life easy.
Marina Hopping
A Solitude Fix—
Paul Clancy
heads into Mobjack Bay and discovers Severn River Marina a stone's throw from history and loaded with amenities.
A Dock Confidential
Four Strong Winds—A Martin guitar is just the trick for getting a crowd to gather on the docks, says
George Trennig.

Cruise of the Month
Ship of (Crab-loving) Fools—When
Tim Zimmermann
set out on his annual cruise with the Losty sisters, he headed for Mill Creek and Cantler's Riverside Inn, not far from Annapolis.
Making a Run for It
—
George Carrigan
thought he could beat the storm to the dock. Turns out he couldn't.
Dealing with the Dog Days
—While he needn't have reminded us that August tends to be on the toasty side,
John Page Williams
does give us some fish-finding tips that just might reel in dinner.
Stern Lines
Wasser ist Leben — Most of us Bay folks know that Water is Life, but
Nancy Allison
wonders if we know how truly lucky we are to live on or near it.
On the cover:
The Lady Patty sails out of Tilghman Island.
Photograph by Tim Tadder
.