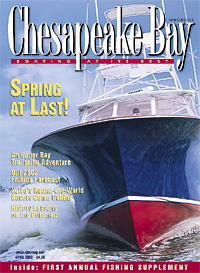 Northern Exposure
Trailer-boating opens up a whole new world for keel-boat sailor
Mike Brown
, when he and photographer Mike Wootton take on the upper Bay in Wootton's open runabout. If you're a trailer-boat wannabe,
Richard Rose
tells you everything you need to know to get started in "Getting Hitched."
True Grit
The Volvo Ocean Race comes to the Bay this month and to celebrate its arrival,
Nancy Taylor Robson
gets us up close and personal with some of the talented Bay sailors who are part of this challenging race around the world.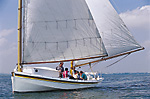 Lessons at the Tiller
History class takes on a whole new meaning for the kids of Maryland's Muncaster School, who retrace the ill-fated voyage of the Pearl, the boat that tried—and failed—to carry a group of runaway slaves to freedom 150 years ago.
By Mike Brown
Fishing Forecast 2002
In his annual tell-all,
John Page Williams
lets the anglers among us know where to go for what and when.
Bay Faces: Gilda Knows
And, speaking of fish, Gilda Hinman can tell us a thing or two, says writer
Patrick Piper
about this fishing maven of Virginia's Eastern Shore.
Departments
WeatherEye
Mail Call
Channel 9
New Boat News
Gear & Gadgets

Cruisers Calendar
Galleys Ashore
Chesapeake Chef
Boat Club News
Bay Business
Tide Tables

Advertising Sections
Boat Review
Fishing Boat Reviews

Advertisers' Index
Classifieds

Special Supplements
Virginia's River Country
Maritime & Recreation Guide
to Calvert County
First Annual Fishing Guide
Nautical Know-How
Wired Water—Electricity leaking overboard can have deadly consequences for nearby swimmers. Technical editor
Tom Dove
tells you how to double-check your boat's electric systems for safety.
Time Tested
Black Beauty—The Blackfin 29 may not be built for luxury or comfort, but it sure is built for fishing.
By Jack Hornor
.
Marina Hopping
A Northern Neck Oasis—
Diana Prentice
pulls into the Chesapeake Boat Basin on Indian Creek, just north of the mouth of the Rappahannock River.
A-Dock Confidential
Standing on Ceremony—There's something about weddings that gives writer
Jerry Renninger
the willies. Maybe it's the having-to-wear socks part.
Cruise of the Month
A Boat, a Beach, a Blizzard—The weather was beautiful when managing editor
Jane Meneely
and crew left for Tilghman Creek, at the mouth of the Miles River. It didn't stay that way.
Angler's Almanac
Fishing the Flats—This time of year, the Susquehanna Flats are as full of surprises as they are of fish, says
John Page Williams
.
Dire Straits
Night Terrors—The collision between a sailboat and a tanker near the Bay Bridge last fall raised a lot of questions about one couple's ability to handle a crisis. Of course, a little hindsight goes a long way.
By Mike Brown
Stern Lines
My New Home—One trip to the Chesapeake Bay and writer
Julie Gammack
was hooked. But until she finally settled in Annapolis, she had no idea how lucky she was.
On the cover:
Sunlight brightens an anchor at the bow of a cargo ship hustling up the Bay.
Photograph by John Bildahl.