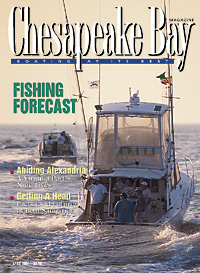 Alexandria: Old Soul of the Potomac
Cruising editor
Constance Bond
takes us on a tour of the old and the new in Old Town Alexandria, Va.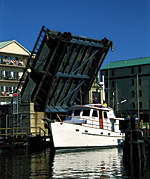 And So We Bought a Boat
Her true love wanted that trawler in the worst way; managing editor
Jane Meneely
said nuthin' doin'—at first.
Fearless Fishing Forecast 2001
Seek and ye shall find fish, says
John Page Williams
as he gazes into his crystal fishfinder and foretells the season.
Bay Window: Market Values
The West River Market in Galesville, Md., has been feeding hungry boaters for years. By
Marty LeGrand
Dangerous Treasures
Toy F. Watson
and his pals had a blast when they found surplus WWII ordnance along the James River.
It's Not Easy Being Green
A composting head isn't the first thing one thinks of when replacing a marine sanitation device. Nor should it be, concludes
David B. Bowes
.


Nautical Know How

Blade Runners—
George Trennig
gives us the edge on nautical knives.

Time Tested: A Guide to Good Old Boats

Gone Cruisin'—Cruisers put out a couple of good overnighters in models 3570 and 3575.
By Jack Hornor

Marina Hopping

Down-Home Away from Home—
Paul Clancy
takes us down the dock at Rebel Marina in Norfolk.

Prop Wash

Some Days are Diamonds—And some days, says
Leon Frank
, the water devils are just out to get you.

Cruise of the Month

Ducking in at Dobbins Islands—Executive editor
Wendy Mitman Clarke
finds charm in a Magothy River gunkhole.
Reader Rendezvous

Fuelish Pleasure—
Mike Warren
would have enjoyed his weekend of sailing, if it weren't for the bloody iron genny.
Me & My Boat

Metamorphosis—On the other hand,
Bill Zeitler
liked his iron genny so much better than his canvas that he swapped.

Angler's Almanac

Chairmen of the Boards—
John Page Williams
explains about planer boards.

Stern Lines

Sunshine Gets the Flu—When Sunshine takes sick,
George Trennig
takes action, and heads south.
WeatherEye