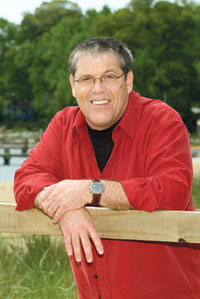 It's Show Time

I would love to see one of those time-lapse videos of downtown Annapolis during the boat shows. The ideal perspective, I think, would be from about halfway up the first block of Main Street, looking down to the head of Ego Alley. Or maybe from the roof of Buddy's Crabs & Ribs.

First there would be just the usual activities—boats coming in and out for no apparent reason, people walking around, eating their lunches, resting on the benches, Bronze Alex reading to the Bronze Children, etc. Then suddenly chain-link fences would spring up along the streets and sidewalks, floating piers would multiply across the water, spreading out into Spa Creek like crystal formations, tents would sprout in the parking lots like giant white mushrooms, and, finally, sailboats would swarm in by the hundreds, turning it all into a forest of masts and rigging and fluttering logos. Then, midway through the second week, the docks would partly melt away and recrystallize, and the masts would disappear, replaced by a low-growth forest of tuna towers and radar arches and whippy white antennae.

It's a seasonal phenomenon that Annapolitans have come to expect. If it's mid-October, the sugar maples will be halfway to vibrant orange, the redbuds will be yellow, and City Dock will be bright white—covered in gleaming fiberglass and billowing nylon, as if some sort of white kudzu has grown out of control.

And it's the only time of year you can walk across Ego Alley—not on the boats, mind you (they don't pack them in quite that tightly), but on what we like to call the Chesapeake Bay Bridge. In fact, we don't just like to call it that, we do call it that. There's a big banner and everything—you can't miss it. It takes you across the very center of Ego Alley, from the bulkhead alongside the Fleet Reserve Club to the big parking lot in front of Phillips restaurant (though you might not recognize either of those places because of all the tents).

In the middle of the bridge you'll find the Chesapeake Bay Magazine booth, where you can get Fabulous Once-In-A-Lifetime Special Boat Show Prices on subscription renewals and on our 2006 Guide to Cruising Chesapeake Bay. And, if you're there on the Friday or Saturday of either show, be sure to stop by and meet some of our unruly but lovable editors and writers—including myself, of course, the unruliest of them all, if not the most lovable. We'll be at the booth from 10 a.m. to 2 p.m. on the 7th and 14th (Fridays), and from noon to 2 p.m on the 8th and 15th.

We'd love to meet you and hear what you have to say about our magazine. Come say hello. Be part of the living picture of October in Annapolis.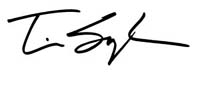 T. F. Sayles, Editor


[email protected]