In the Loop


Remember the good old days, when, if you wanted to write someone a "note," you would sit down at your desk and get out your favorite "pen" and write the note on "paper"? And then you'd fold it up and put it in an "envelope" and seal it by licking the glued flap with your "tongue," and then you'd rummage around in the junk drawer for a stamp and finally find one in the little paper-clip dish, and then—holy cow, it's almost five o'clock!—you grab your car keys and dash off to the post office, which closes at five, but you get there too late, so the letter doesn't get mailed until the next morning, so your gal Doreen goes off to Wisconsin with that guy Earl because she never got your note, in which you professed your eternal love for her? Remember that?

Well, that's not what this is about. This is about the good new days—the days in which you can send a letter, get an answer, send another letter and get another answer in less time than it takes to find that stamp in the little paper-clip dish. And if you're really on the cutting edge, you can do it from your boat in the middle of the Bay. Yes, boys and girls—and this is hardly a news flash—the E-Mail Age is upon us. I tell you that because we at Chesapeake Bay Magazine have decided that it's high time we took full advantage of this miraculous new channel of communication. That is, we'd like to use it to get feedback, information and insight from the best possible source: you, the reader. You, the Chesapeake Bay boater.

Consider this, then, your official invitation to join our new Reader E-Panel. If you'd like to be part of our editorial feedback team, all you need to do is e-mail us at

[email protected]

and tell us your full name, zip code and what kind of boat you have (i.e., power, sail or both). We'll take it from there; once we confirm that you're a subscriber, we'll add you to our e-mail list, and the fun begins. Every so often (we promise not to bombard you) we'll ask for your opinion on a particular boating issue, or about some aspect of the magazine—say, whether or not we devote enough ink to boat tests. Or we might just be looking for leads or firsthand information on stories we're working on. Your participation, of course, is entirely voluntary—and reversible. If you change your mind, for whatever reason, all you need to do is say so; we'll take you off the list. I hope you'll join us.

And if you happen to see Doreen, tell her I need a forwarding address.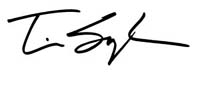 T. F. Sayles, Editor


[email protected]




P.S.: And, speaking of the Aspen Institute Wye River Conference Center, mark November 11–13 on your 2005 calendar. That's the date of the Chesapeake Bay Writers' Retreat, of which CBM is a proud sponsor. Watch for ads in the magazine, and in the meantime go to www.baywriters.com for details.